Weeks Nine through Twelve
Ninth Through Twelfth Week of Awesome Inc Bootcamp
April 22 - May 19, 2019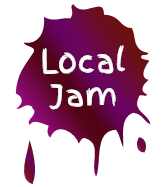 My final project is called Local Jam. Working on it has been a long, rough journey with peaks and valleys that culminated in a product I am very proud of. I have a much better understanding of CRUD (create read update destroy) with regards to Laravel and Vue components. One moment I am proud of is when I implemented a Vue component to pass multiple ids on click to route to the table controller and update the associated bridge table in my database.
This project stretched my imagination and I learned to test my theories to see what is possible. One example of this is when I wrote inline PHP that threads through html. I used PHP to compare table values and html to display them. I was forced to think outside the box and was rewarded for doing so.
My logic skills were put to the test when I created my search page to create multiple arrays of objects from different tables, loop through those arrays and compare object values, use object values from one table to access and compare values from another, and finally to display the correct values on the page. I am very proud of this.
As a programmer, I have grown a great deal through designing and implementing Local Jam. My knowledge of and appreciation for Vue and Laravel has grown immensely, and I have a much better intrinsic understanding of the MVC (model view controller) relationship. It is very rewarding to see a project through from inception to execution to demonstration.